Excellent "Sleeping" Bed Wedge, Aids Restful Sleep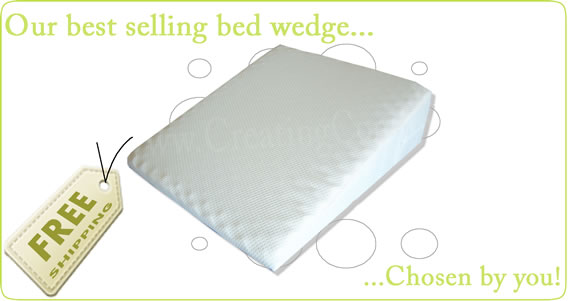 Click image(s) for large view
Wedge Pillows - Creating Comfort offer variants of the standard acid reflux bed wedge, this has been developed initially as a bespoke item for one of our customers who requested a lower incline to elevate the upper torso. Although relief is achieved with all our wedges ,for some the lower incline and larger surface area make for a more comfortable nights sleep particularly for those with a larger body frame.
Irrespective of the incline as this is personal choice, what's important is that your head, shoulders and torso are supported at the correct elevation to alleviate symptoms of acid reflux, heartburn, respiratory conditions, sinusitis, hiatus hernia and other related problems. Elevation allows gravity to work well keeping stomach acid and food down, drains sinuses and opens airways.



Elevation of the head only on pillows actually exacerbates many sleep problems, particularly acid reflux, as your body is inclined to bend in the middle, which allows stomach acid to go part way up the oesophagus and get trapped which causes extreme discomfort. The single most popular recommendation from medical professionals is to elevate the upper torso to alleviate symptoms, which in turn may reduce the necessity to take prescribed medications.
Multi functional, the wedge pillow can be used at the bottom of the bed to raise and support the legs encouraging good circulation, relieving symptoms of varicose veins, swollen ankles, phlebitis and oedema. For many, this simple natural remedy may be all that is required to manage such conditions very well.
Excellent to manage Gerd during pregnancy.
Our wedge pillows are constructed from high density CM foam which has a laminated layer of 'eggcrate' design Memory Foam to increase airflow , fitted with a luxury cream damask polyester, cotton feel zip off cover, the wedge pillow cover is easily removed for cleaning purposes.
Reflux Wedge Pillow- key Features
Lower incline and wider surface area to sleep comfortable,
As supplied to the NHS & Nursing Homes. Complies with BS5852:Part2:1982, Furniture & Furnishings (Fire)(Safety) Regulations 1988.
Highly recommended for sufferers of acid reflux ,Gerd and heartburn, also aids in sinus drain problems, snoring, and constricted airways
Excellent to counteract oedema and varicose veins by elevating the legs
Constructed from an "Egg Crate" memory foam layer laminated to premium grade CM foam providing excellent support, comfort and increased airflow to regulate temperature
Waterproof two way stretch VP (vapour permeable) cover version available
Take a look at our other foam bed wedges
Smaller memory foam bed wedge available
Overseas customers & for custom made to measure orders contact us by clicking ...here
Bed-Wedge Pillow - Uses
Reading bed prop
Control excessive snoring
TV viewing support pillow
Improve bed posture, post op
Ideal sleeping wedge for reflux
Back pain support management
Leg wedge pillow, raise, positioner
Maternity, pregnancy support wedge pillow

 
Click on the green "Add" button below to add the item to your shopping cart.
Reflux Wedge Pillow - Specifications
demo video 1:36
Dimensions for our wedges pillows are approximately;
76cm x 66cm x 20.5cm profiling to 6.5cm at the lowest point.
Washable zip off cream coloured cover or VP cover fitted as standard.
Spare covers available by clicking ...bed wedge covers
Delivery
We try and dispatch goods on the day of purchase. Goods are sent via Parcel force 48 - (normally two day delivery from the time of order this will vary if you live in the Scottish highlands, Channel Islands, Europe or the rest of the World.
Free delivery mainland UK
Click on the green "Add" button below to add the item to your shopping cart.
Short informative article:
Wedge pillow to aid post-op recovery
If you are recovering from surgery, doctors recommend that you use a bed wedge pillow to improve the healing process. The pillow will also allow you to be comfortable as you recuperate. The first priority should be whichever part of the body has been operated. A wedge pillow should be used to raise up that part of the body. This will get the blood flowing, give the tissue a break, and reduce inflammation. No matter what part of the body has been operated on, whether it be torso, feet, legs, hip, arms, and especially the head could keep the head comfortably positioned for recovery.
Here are some of the most common surgeries that using a bed wedge pillow will aid in recovery:
Liposuction ("Suction assisted fat removal)
Thoracic Surgery
Leg operations
Knee Surgery
Breast Enhancement
Caesarean section
Tummy Tuck (Abdominoplasty)
Although these are some of the most common types of surgery that could use a wedge pillow, almost any patient can benefit from using a wedge pillow. It will make recovery that much easier and safer.

All well and good right, however, do you want to spring for something that you will only use during recovery?
It may be true that you will only need to have surgery (hopefully) once every few years at most unless you are very unfortunate in health but it is also true that you can use your wedge pillow at other times beside post-surgery. It has many purposes and is well worth the money.
Need an example? Well think of the things you do with a pillow behind you, other than sleep.You watch television, read, or work on your lap top computer. What do you use to feel comfortable as you do that? Do you jam a bunch of pillows behind you? Do you have to re-jam them? Furthermore, will this really keep your neck comfortable? Either your back or your neck will be in an unnatural. So much for relaxing and enjoying TV or a good book. Replace those pillows with a wedge pillow and you will feel more comfortable. Already the pillow will start paying for itself.
However, just how much will it cost? There is a wide price range of about £30 up to £180. The price depends on what the pillow is made of and how it is constructed. The initial purchase can be compared relative to the cost of any post- surgery medical device or specialist equipment. However, there are not many devices that can be converted to everyday use. There is a good chance that you will wonder how you ever got by without one in your daily life!
Click on the green "Add" button below to add the item to your shopping cart.