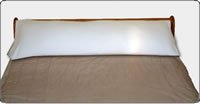 A luxurious dual purpose Memory Foam Bolster Pillow is the ultimate in comfort. Bolster pillows are traditionally placed across the width of the bed instead of having 2 standard sized pillows. Creating Comforts Memory Foam Pillow is generously filled and sumptuously soft using the very latest in memory foam technology.
A Bolster Pillow not only keeps the neck vertebrae in line with the spine but also helps to reduce a stiff neck by providing the right support for your neck and head.
To use the Bolster pillow as a body cushion for comfort during sleep is extremely beneficial to as Memory Foam moulds to the contours of your body for optimum support. This duel purpose will most certainly aid restful sleep and however you choose to use your Bolster Pillow, it will return to its original shape every time.
The Memory Foam Bolster pillow is fitted with a quality poly cotton pillow case which is easily removed and machine washable.
Key Benefits
Dual purpose memory foam bolster pillow
Conforms to individual contours Keeping the neck vertebrae aligned with the spine.
Excellent support when used as a body pillow.
Covered with a luxurious poly cotton protective fabric and fitted with a FREE pillowcase.
FREE delivery
Complies with soft furnishing regulations
Hypo allergenic and reduces dust mites
Ideal for asthma or allergy sufferers


More Details »