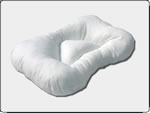 Cervical neck support pillows - Many people suffering from severe neck pain will benefit enormously from using a cervical support pillow.
Specifically shaped for cervical support, the orthopaedic design has two lumbar rolls on each side of the pillow and a contoured central area which ensures the neck and spine vertebrae maintain correct alignment which ever sleeping position you prefer.
Our quality cervical neck pillow is ideal if you suffer from neck pain, headaches, tension in the shoulders, upper back or spinal problems. Hypo allergenic and dust mite free, this pillow is suitable for allergy sufferers and will also help to keep the airways open. This is particularly beneficial if snoring causes you or your partner problems.
Similar in look and feel to a traditional pillow, it is filled with premium fibres to ensure every comfort is maintained. Made from 100% Polyester Fibre, Dimensions: approx 60cm x 45cm x 7cm. The depth of the cushions can vary from from 7cm to 15cm. Spare cervical pillow cases available.
Cervical Support Pillow Benefits
Unique design provides support as you sleep
Gives pain relief to the neck, shoulders and spine
Hypo allergenic and dust mite free. Ideal for asthma and allergy sufferers
Can significantly reduce snoring
Removable machine washable poly cotton cover.
Free UK Delivery on our cervical neck support pillows.
More Details »