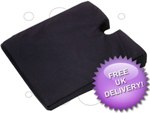 Having suffered with Coccydynia - coccyx or Tailbone pain injury I am acutely aware of how painful this can be and empathise with the difficulty experienced as you try to carry on with normal daily life.
The coccix is an easily aggravated area of the lower spine and unfortunately the healing process is extremely slow. As there is no "quick fix", we can only relieve the symptoms giving this delicate area the time to repair itself naturally.
The orthopaedic foam Coccyx / Tailbone Cushion is designed to do just that,in the form of a seating wedge with a unique cut out to ensure no pressure is being placed on the coccyx area.
Our Coccyx seat wedge will provide a pelvic tilt which ensures the hips maintain a position that is higher than the knees giving you a balanced seating posture to further enhance your recovery and counteract a natural inclination to hunch forward which can further strain the lower back.
The coccyx seat cushion is fitted with a cotton drill cover which is easily removed and and machine washable. Spare covers are available for this item.


Coccyx Cushion - Key Benefits
Offers Orthopedic support relieving pressure on the coccyx area
Allows the natural healing of a damaged coccyx
Encourages correct seating posture
Hypo allergenic and dust mite free making it an ideal choice for asthma or allergy sufferers
Manufactured in the UK, Conforms to UK Standards BS5852
2 year manufacturers guarantee for coccyx cushion, I year for cover.
Removable machine washable cotton drill cover
Our Coccyx cushions have a large surface area and measures approx 43cm x 43cm x 7cm > 3cm
FREE DELIVERY ON THE COCCYX CUSHION
More Details »