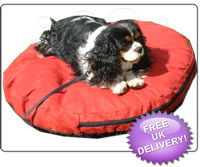 Creating Comforts round memory foam Dog Bed has a depth of approx 7cm (smallest size bed) and is filled with premium crumbed memory foam making the bed pliable and easy for your dog or cat to find a comfortable resting position.




Generously filled this pet bed is ideal to offer your dog/cat anatomical support as the memory foam will mould to your pets individual body contours supporting areas where it is needed most. Fantastic for pets suffering from arthritic or muscular problems and extremely comfortable to offer your beloved pet their own unique resting place.



Available in a choice of 5 luxurious faux suede fabrics the memory foam pet bed is fitted with a FREE water repellent lining ensuring the memory foam remains fresh and dry. All covers are machine washable and we also supply additional sets in all sizes.

Whatever breed of dog/cat you have we have just the bed to accommodate their size and weight. Standard sizes available in approx Diameters of 50cm(20")75cm(30")or 100cm (40").




We offer a bespoke service and can manufacture virtually any size you require. E mail via the "Contact us"page for a free no obligation quote.



Key Features
FREE DELIVERY
Filled with premium crumbed Memory Foam
FREE waterproof lining
Anti bacterial and dust mite resistant
1 year guarantee
14 DAY MONEY BACK GUARANTEE*