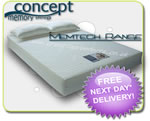 The Memtech Combi mattress has excellent rebound properties , this was developed by one of the top UK manufacturers of memory foam in response to feedback from consumers who 'loved' sleeping on memory but 'missed' the re-bound characteristics of springs.
After extensive research and testing of many different types and combinations of 'base' (support) foams the answer came in the form of a 'middle layer' of 'LayTech™'sandwiched between the base PU foam and visco-elastic ('memory') top layer.This middle layer had to offer optimum levels of 'spring'and 'support'as well as superior performance and durability, all of which were met by LayTech™.
LayTech™ is an advanced polyurethane foam developed by Kay- Metzeler which offers an unbeatable combination of exceptional comfort and support along with a luxurious feel and re-bound characteristics comparable to latex.
Key Benefits
Unique combination of visco-elastic and LayTech foam technology
Provides the ultimate in sleep comfort and support
More 'bounce' than conventional memory foam mattresses
Reacts to body heat and moulds to individual body shape
Promotes good blood circulation
Pressure relieving
Silent – No springs
Luxury 'Double-Box'Quilted dry-cleanable zip off cover
Custom sizes available
Unique 3 layer construction
Complies fully with UK flammability regulations
Vacuum packed
5 cm (2 inch) High density memory foam layer
5 cm (2 inch) LayTech layer
10 cm (4 inch) Reflex layer
Firmness rating = Medium
More Details »