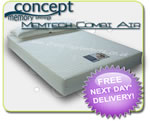 A key feature of a memory foam mattress is the fact more of your body is in contact with the sleep surface which means the body weight is dispersed over a greater area compared to conventional mattresses and therefore significant levels of enhanced pressure relief are achieved which greatly improves sleep quality.
This increase in contact area will naturally result in a warmer sleep, which is a welcome characteristic of memory foam in winter months but may not be appreciated in summer or by individuals who may suffer excessive sleep perspiration.
The Memtec Combi-Air has been engineered to allow for a more cooler and dryer sleep experience. It achieves this in two stages; firstly by incorporating a three dimensional, air channeling, corrugation design to the top surface of the memory foam and secondly by incorporating the 3D Spacer`fabric in its cover. This combination allows for air to flow more freely around the body resulting in a cooler sleep without compromising any pressure relieving characteristics.
The `Spacer`is a three- dimensional fabric which, apart from allowing air to flow through it also retains moisture which is gradually dispersed through evaporation resulting in a much `dryer` sleeping experience.
Key Features
Unique combination of visco-elatic and LayTech foam technology.
Provide the ultimate in sleep comfort and support.
More `bounce` than conventional memory foam mattresses.
Reacts to body heat and moulds to individual body shape.
Promotes good blood circulation.
Pressure relieving
Silent - no springs
Luxury `Double-Box` Quilted dry-cleanable zip off cover.
Custom sizes available
Unique 3 layer '3D Air Flow'design
Complies fully with UK fire regulations
Pressure relieving air conditioning 3-dimensional `Spacer™` fabric
3D `air-flow` corrugation profiling to top surface
Promotes improved airflow circulation around body for cooler sleep
Promotes`dryer` sleep experience
Relief for people with excessive sleep perspiration
6cm (2.4in)High density memory foam layer with 3D air-flow corrugation profile sculpted on top foam surface
5cm LayTech layer
10 cm (4 inch) Reflex layer
Firmness rating =Medium-Firm
More Details »