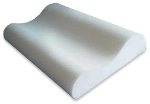 Designed with a cervical roll, the memory foam contour pillow will support the neck and spine as you sleep irrespective of the sleeping position adopted.
As is characteristic with memory foam, the moulding properties ensure that pressure points are virtually eliminated making this orthopaedic pillow an ideal choice for anyone suffering with headaches, neck or spinal problems.
This pillow comes with a quality cover which is easily removed and machine washable
Key Features
Dimensions 47x30x11cm (18.5x12x4 inches)
Temperature sensitive properties initiate moulding to individual contours giving additional support
Excellent source of orthopaedic pain relief for people suffering with neck and spine problems
Made in the UK. 5 year guarantee for pillow. 1 year guarantee for cover.
100% Restore® Memory Foam with a density of 55kg cm3. Complies with BS5852. Fire Retardant.
Hypo allergenic and dust mite resistant. Ideal for sensitive conditions such as asthma and allergies.
FREE DELIVERY and 14 DAY MONEY BACK GUARANTEE

More Details »