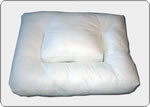 Stop snoring with our unique anti snore stop pillow complete with Free Pillow case!

If you sleep with a partner who snores you may find your patience and understanding wearing a little thin when you find yourself awake for the third or fourth time since going to bed.

Unfortunately it is not just the snorer who suffers interrupted sleep, it affects both parties which may lead to levels of fatigue affecting all area's of your life.

After extensive research a solution has been found to alleviate the problem in the form of Creating Comforts Anti Snore Pillow, positive benefits have been recognised by sleep experts as the cervical roll design allows the airways to remain open. By aligning the neck and spine, the air channels and buttoned pillow gives free air flow irrespective of your sleep position.

Allow yourself to imagine the contentment of an uninterrupted night giving you a truly restful sleep. The anti snore pillow comes with a machine washable poly cotton cover.



Anti Snore Pillow - key Benefits
Stop snoring with this uniquely designed pillow
Instantly gives relief from snoring
A natural preventative measure to counteract snoring
Aids restful sleep
Hypo Allergenic
Resistant to dust mites
Complies with BS 5852:Part2:1982, Furniture and Furnishings(Fire)(Safety) Regulations 1988
Full manufacturers guarentee
Spare Covers available for the Snore stop pillow
Made in the UK
Free Pillow Case
Free UK Delivery
UNFORTUNATELY WE ARE CURRENTLY OUT OF STOCK

More Details »