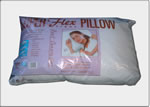 The Super flex pillow is filled with the latest advance superflex fibre. This fibre is coiled and gives the same effect as thousands of little springs giving a high loft and excellent recovery.
Sleeping on a super flex pillow will give added comfort and support alleviating head,neck and shoulder pain promoting a restful quality sleep.
Hypoallergenic and dust mite resistant, the super flex pillow is an excellent choice for allergy sufferers. Fitted with a quality luxury poly cotton cover. Machine washable.
Key Benefits
Advanced Super Flex fibre fill
Spiral crimp fibres act like thousands of little springs
High loft
Excellent recovery
Hypo allergenic and machine washable
FREE DELIVERY
More Details »