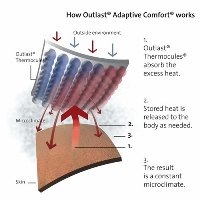 Is your memory foam mattress too hot?

The development of the Outlast temperature regulating memory foam mattress cover is fantastic news for people who sleep on Memory Foam mattresses and become extremely warm as they sleep. The human body naturally sweats to cool the skin, reducing the ability of clothing, and bedding to keep the body dry and comfortable.




Outlast fabric has been used for many years, there is already an extensive product range from business to outdoor clothes. Outlast® technology works quite simply by using phase changing materials which incorporated into fabrics act with the skin's temperature to provide a barrier against temperature swings. This allows the fabric to interact with your body to help balance temperature by absorbing, storing and releasing the heat that you produce as your body temperature fluctuates throughout the night.This is particularly beneficial for those people who sweat excessively or have problems regulating body temperature. ...Read More




Having listened to our customers for many years, we are excited to offer the Outlast temperature regulating mattress cover to our range as we are confident that it works, not too warm, not too cold,it is everything you will need for a fantastic nights sleep.

The outer cover is a luxurious velour with a layer of outlast fabric under the surface which will fit a standard 8 inch mattress.
Outlast Mattress Cover Key Features
Ideal cover for a memory foam mattress
Fits a standard 8 inch mattress.
Balances temperature increasing comfort
Cool and fresh to the touch
Absorbs excess heat reducing sweating
Releases heat when temperature drops
Excellent for sufferers of excessive perspiration
FREE DELIVERY
More Details »