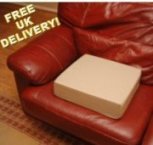 Some items of furniture are particularly low therefore making it difficult to rise comfortably from a seated position.Do you experience problems getting out of your favorite chair? or maybe it is just difficult to get up once you have sat down, if that is the case then Creating Comforts Easy-Riser seat cushion could be just what you need.
This cushion has been designed with both comfort and practicality in mind.Extremely comfortable to sit on the easy riser cushion features a leading edge which collapses as you lean forward gently aiding you to lift from a seated position
This cushion can be taken anywhere with you and is an inexpensive alternative to costly electrical lifting equipment.The Easi riser cushion comes fitted with a brown quality poly/cotton cover which is easily removed and fully machine washable.
Key Features
Extremely versatile and mobile can be used at home,work or on holiday
Manufactured in the UK
3 years manufacturer guarantee for the cushion and 1 year guarantee for the cover
Hypo-allergenic and dust mite resistant making an ideal choice for asthma or allergy sufferer
Perfect to use with low furniture to aid rising from a seating position
Fitted with a quality poly cotton cover
Complies with BS5852. Fire Retardant.
FREE DELIVERY and 14 DAY MONEY BACK GUARANTEE
More Details »