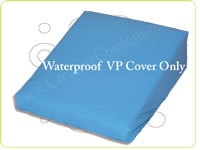 Need a quick clean, wipe down cover to increase hygiene? Then upgrade your current bed wedge with our multi stretch waterproof vapour permeable covers. Extremely hygienic, our multi stretch cover is soft to touch and easy to maintain.
Excellent protection for your pillow wedge from incontinence and accidental spillage, prevents liquid ingress through to the foam construction which prolongs the life of your wedge.
Made to fit Creating Comforts reflux wedge pillows .
Waterproof Bed Wedge cover - Key Features
Low maintenance wipe clean
Prevents ingress of liquids, ideal for incontinence sufferers
Made from high quality vapour permeable water resistant fabric
Multi stretch soft comfortable fabric can be boil washed to maintain hygiene
Stitched seams, zip off for quick, easy removal & fitting
Requires hand wipe and dry action with recommended antibacterial solution or warm soapy water
Made to British safety standards, as used in hospitals & care homes
Free Delivery in UK and Northern Ireland
More Details »