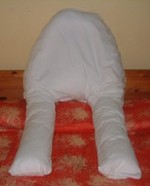 Click image(s) for large view
Our Body Hug wrap around V Pillow is NEW TO THE MARKET and what fantastic news this is for all of us, there are many back support cushions and pillows on the market however this unique design offers more with the comfort of full anatomical support for the upper body. This promotes good seating posture giving you what is known as balanced seating the optimum seating angle for alleviating unnecessary strain on the upper and lower back.
We feel excited about this product as it is extremely comfortable, the design has been well thought out, therefore there is no need to continually readjust your position . The clever design incorporates a cervical roll to relieve pressure on your neck and upper back with an inherent full support back cushion. The bolster arms fold around the body resting on your lap which provides pressure relieving support to your neck, arms, shoulders and back allowing you to truly relax and rest your body.
This pillow has multiple uses and is therefore a great investment , it is fantastic as a maternity / breastfeeding pillow offering nursing mothers comfort and support as they feed for what can sometimes be long periods of time, especially during the night when fatigue is at its peak. It quite simply offers excellent support for your favourite chair or to sit up in bed reading, watching TV or simply relaxing. Whatever you do you can rest assured that this uniquely designed pillow will make it a more comfortable and enjoyable experience.
The Body Hug wrap around V Pillow comes fitted with a poly cotton pillow case which is easily removed and machine washable, we also supply additional pillow cases. Dimensions 1200cm x 70cm x 10cm
FREE DELIVERY 2 Year manufacturers guarantee for the pillow and 1 year for the cover. Made in the UK.
Key Features
Versatile body hugging support pillow offering comfort
2 Year manufacturers guarantee for the pillow and 1 year for the cover. Made in the uk
NEW TO THE MARKET Fantastic nursing and breastfeeding pillow, Ideal for reading and relaxing giving the ultimate in comfort and support.
Hypo allergenic and dust mite free, ideally suited to allergy sufferers, postoperative patients and breastfeeding mothers.Comes fitted with an easy to remove poly cotton pillowcase.
14 DAY MONEY BACK GUARANTEE should you not be fully satisfied with this product.