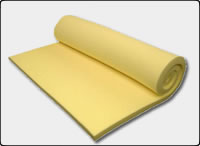 Sleeping on an all foam mattress is not suitable for all of us. For many a sprung mattress is preferable however the luxury of Memory Foam is still desirable.
Rejuvenating your current mattress could not be easier.Our toppers are constructed from a high density memory foam, many of which have a zip off quilted cover adding to the overall comfort.
We also offer our Memory Foam Topper sheets with a luxury quilted mattress protecteor with added depth to comfortably fit both mattress and topper. A memory foam topper could be just what you need to offer enhanced support where you need it most to give a truly restful sleep.
Large View