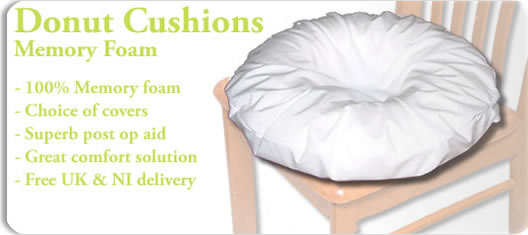 Donut cushion memory foam
Our donut ring or doughnut cushions are fantastic if you suffer from painful piles, haemorrhoids or recovering from post birth (postnatal). They are generally referred to as a donut ring cushion, donut pillows, ring or doughnut cushions and are normally made from different types of foam. The donut comfort cushion is quite simply a round shaped foam seat cushion designed with a cut out in the middle (think polo mint!)which supports the surrounding area of any sensitive areas preventing contact and therefore alleviating pain and discomfort. Memory foam moulding properties offer excellent comfort and significantly reduced interface pressure that makes Creating Comforts memory foam donut ring cushions an excellent choice for people who suffer from piles (haemorrhoids, postnatal or coccyx pain.

Our memory Foam Donut ring Cushions are available with a Vapour permeable waterproof cover, hygienic, prevention of fluid ingress and unwanted odours. As supplied to nursing homes, NHS & Private Hospitals.

As a maternity / post pregnancy aid our double layered donut cushions can speed up recovery after childbirth, easing pain associated with episiotomy, general tenderness and discomfort when seated. Paramount in the early days to establish the most comfortable positioning for mother and baby while feeding patterns are being established.

Memory donut shaped cushion makes an excellent post operative aid, used extensively for pressure relieving comfort, allowing the bodies natural healing process optimum conditions to repair damaged tissue post operatively.

Use our donut ring cushion to offer relief from what can become painful and somewhat debilitating piles / haemorrhoids.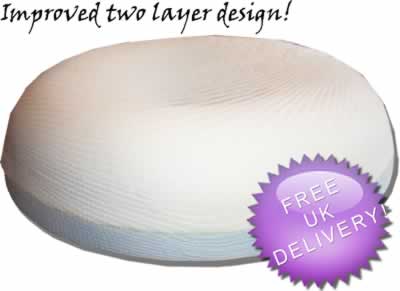 What makes our donut cushions unique?
New improved "two layer" foam construction

Temperature sensitive top memory foam layer adds pressure relieving properties

Medium density base foam for extra support - prevents the memory foam from "bottoming out"

Stockinette cover to help prolong foam life and ease the removal & refiting of your donut outer cover
Memory foam donut cushion - offers superb user benefits
Ideal post operative aid

Optional choice of covers

Relief from piles / haemorrhoids

Superb if you suffer from coccyx pain

Excellent maternity post pregnancy cushion

Supplied to NHS Trusts and Care-Homes throughout the UK

Free shipping on the donut ring cushion to mainland UK & Northern Ireland - contact us for a quote if you reside outside of these zones
To place your order:

Select the type of donut cushion from your choices below by...
clicking on the product image
or clicking on the "More Details »" button below.