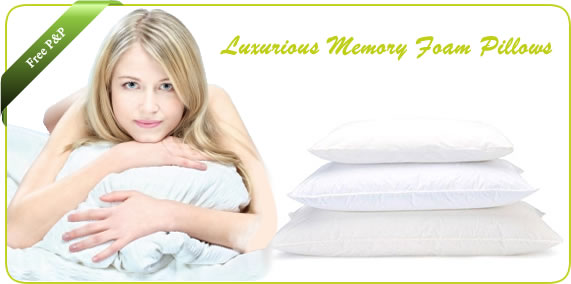 Why enjoy the luxury of a memory foam mattress without the indulgence of a memory foam pillow? Free UK delivery on all memory foam pillows from £19.95.
We offer a wide range of memory foam pillows that all have different unique properties. Each of our seven memory foam pillows is designed to help you in a different way, from pregnancy to neck pain. We are now offering a discount on all pillow cases when you buy a memory foam pillow and don't forget Free UK delivery is included.
Why Purchase a Creating Comforts Memory Foam Pillow?
The very design of our memory foam means that it will conform to your body ensuring a shape that is ideal for easing the tension in your neck and shoulders.
Dust mite resistant means that you won't have to worry about yourself or those in your family with sensitive allergies.
Versatile and appropriate for all seasons. The "coolblue" pillow will stay cool during hot months and warm during cooler months.
Experience your best nights rest ever with a foam pillow created to mold to your personal shape.
Complete 12mth product guarantee for peace of mind.
Same day dispatch and free delivery on all of our pillows.
Memory Foam Pillow
A pillow is a pillow right? Wrong! A good pillow can make all the difference to the quality of sleep that you enjoy and how you feel when you wake up in the morning, A nicely contoured pillow that allows you to sink into it whilst it holds you securely can make for such a peaceful, restful night's sleep. Have you ever noticed that when you buy the normal, everyday pillows they are great for the first couple of weeks and then gradually they become so squashed and worn down that they become less than half the size of when they started eventually flattened like a pancake? Or you may notice that one pillow is never enough and two is just that little bit too much. When it's hot are you one of those people that keep turning the pillow to get the cool side? If all of this sounds familiar and you value your sleep too much to put up with basic pillows we have a solution for you.
In total we have a range comprising of 7 memory foam pillows, pillows that are designed to support you with memory foam that contours to the shape of your body, holding you secure whilst you get comfortable. Each one is designed to suit a specific purpose from neck pain to pregnancy. A memory foam contour pillow will mould itself to the shape of your body ensuring a comfortable sleeping position and less tension in the neck and shoulders. You may be lucky in that you never suffer with a stiff neck but if you have ever experienced waking up with a stiff, sore neck then you know that it is no laughing matter. We have a contour memory foam pillow that is ideal for neck and orthopaedic symptoms. As well as our Neck and Orthopaedic Pillow we also have the Luxurious Memory Foam Pillow. This particular memory foam pillow looks just like an ordinary pillow but wait until you try it! The memory foam interior moulds to the shape of your head, neck and shoulders. This then alleviates pain and discomfort from sleeping in the wrong position. In fact we think you will like this one so much you won't be able to wait to get into bed every night. For you night owls you will probably find yourself turning in earlier. As well as the Luxurious version we also have the Traditional Memory Foam Contour Pillow – this is a more traditional support pillow for the neck that again moulds itself around the shape of your head. Inside the pillow are memory foam clusters which move around the pillow to support the head and neck as necessary. A layer of memory foam then surrounds the outside of the pillows for extra comfort.
Now a pillow that you will want to snuggle into is the Long Bolster or Body pillow. The contoured memory foam pillow will mould to the shape of your body ensuring that your neck and spine stay aligned. Keeping you in such a comfortable position with a good posture will help you to not only sleep better and more soundly but will also mean that you wake up with less aches and pains and actually feeling like you had a good night's sleep. This pillow is ideal for those that prefer to sleep on their side but of course is dual purpose as it can be used to prop your head upon or lay vertically in the bed as a body pillow. It is not uncommon for those that prefer to sleep on their sides to end up with back and shoulder problems where their vertebrae twist as they sleep. If you are going on holiday or travelling anywhere and want to enjoy the same quality of sleep that you do at home we have a Travel Pillow / Neck Pillow that is created from a deluxe moulded memory foam. Again great for those that suffer with bad neck and shoulders and also great for relieving headaches. A lot of people suffer from headaches as a result of stiff neck and shoulders and often headaches are the result of referred pain. Why not try our Coolblue memory foam pillow? Ideal if you are travelling abroad and like your own pillow. Unlike other memory foams it is designed to not retain heat and actually keep you cool at night. Perfect for those that like a cool pillow and are constantly turning their pillows at night.
Finally we have a traditional favourite - The V pillow. Synonymous with pregnant women who use it in a variety of ways when pregnant and breastfeeding to achieve the perfect position. It is the perfect pillow for supporting your whole head, neck and shoulders when you want to sit upright and watch television or just want to sit comfortably, laid down it also works in a variety of positions to give extra body support. The beauty of our V pillow is the Memory Foam that contours to the shape of your head, neck and shoulders or if you use it as body support will help to support your back and bump. Imagine hitting the sweet spot and comfortably watching television or reading whilst supported by the comfort of this pillow.
Our range of memory foam pillows are dust mite resistant – great for those that suffer with allergies to dust mite as many people do. Also more hygenic. The Coolblue Pillow is great for those that like a cool pillow in summer and a warm pillow in winter – a definite winner if you are fussy about this. Along with a size and shape to fit all whatever your individual needs are our pillows also come with a 12 month product guarantee and same day dispatch with free delivery.
In fact reading this probably just wants to make cuddle up with a snuggly pillow and go to sleep. If only you had a comfortable and welcoming contoured memory foam pillow!
UK - STANDARD DELIVERY INFORMATION
It's FREE! - All our goods have shipping included in the price unless otherwise stated.
Your parcel will arrive within 3-5 working days (excluding weekends).
Delivery will normally take place between the hours of 08:00 & 19:00 hrs
If you're not in when your parcel arrives, a card will be left telling you where it is & there will be details on how to collect your order or rearrange delivery via the couriers website.
Deliveries are not made on bank holidays therefore you can expect your order to arrive the next working day.
Please keep in mind that UK Bank Holidays are not counted as a working day in our delivery time frames.
COURIERS & SERVICES THAT WE USE;
Royal Mail - Recorded
Royal Mail - International Signed for
Parcelforce - 48
DHL
Yodel
Next day delivery now available
RETURNS
If for whatever reason you are not happy with your goods please get back in touch with us within 14 days of delivery - full details are outlined in your dispatch email or on our website terms & conditions page.
Memory Foam Pillow
When you get home from a long day at work there is little in life that is more comforting than the warm welcoming comfort of your bed. Your favorite comforter, carefully selected memory foam mattress, and your pillow, which more often than not are of a standard type that you just happened to pick up cheaply from the local food super-market without giving any thought of quality or benefits. When it comes to you choosing the best memory foam pillow it's just as important as the choice of a good mattress. Many of us have already made the leap to a memory foam mattress but what about a memory foam pillow? Creating Comforts has developed a range of memory foam pillows that will give you the next level of comfort and luxury you're looking for. Imagine sleeping peacefully through the night and waking up feeling your absolute best.
Our pillow range has been created using state of the art memory foam developed from high tech NASA technology. The new series of products is designed to give everyone a more fit and restful sleep. By creating our own line of memory foam pillows we have been able to make them in a wide range of shapes and sizes to suit the particular needs of each individual. At most stores you're left with a selection of rectangular shaped pillows with normally substandard filling to choose from. With our line you'll find that you have more options than you thought could be possible. We all have different ways we prefer to sleep whether we like to lie on our back, stomach, or side. Perhaps you like to prop an additional pillow under your knee or arm, or behind your back. With our large variety you can find the pillows that will work best for your desires.
Many of us wake up each morning with uncomfortable aches and pains. Oftentimes our sleeping situation can even contribute to the issue. Our memory foam pillows react to your body's unique shape and weight to create a fit that is perfect for you. You'll feel comforted and supported by the pillow which will aid your body to relax allowing you to drift off into a fit and restful slumber. Choose from our exclusive line of memory foam pillows designed to relieve troublesome aches and pains by adding extra support for the areas of the body that sustain the most stress.
One of the great ailments that plagues regular pillows are troublesome dust mites. All of our memory foam pillows are dust mite resistant which can help those with bothersome allergies and makes for a pillow that is safe for the entire family. Our line of pillows are also ideal for the summer and winter seasons. The technological advances have made a pillow that will help you to stay cool in the hot summer and warm in the cold winter months.
When you consider a new memory foam pillow it is important to consider all of the ways in which it can make your bed a more comfortable and restful haven. Not only will our pillows help to relieve aches, including relief to many spinal issues, but they are heat-sensitive, and provide additional support cradling your head and neck in ways that other pillows can't.
All of Creating Comforts memory foam pillows will relieve the stress and tension of a hard day's work. When you sleep on one of our pillows you'll feel relaxed and calm and will find that you have a more restful night's sleep meaning you'll wake up rejuvenated and energized.