Relieves neck and shoulder pain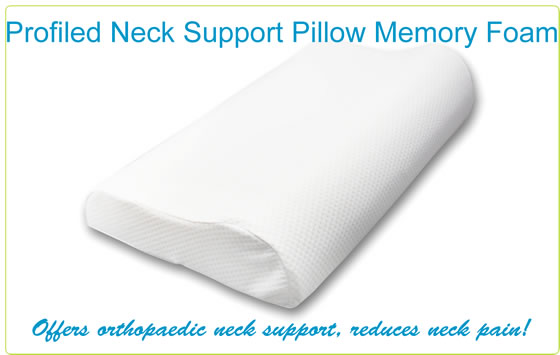 Click image(s) for large view
Have you woken up with a stiff neck? The unique contour shape of this memory foam pillow allows your head and neck to take the optimum position whilst sleeping to reduce tension and create a comfortable pain free nights sleep. To add extra comfort all of our pillows come with a cotton feel, zip off high quality fixed poly-cotton outer cover. Get value for money by taking advantage of our free UK delivery service.
Why You'll Love Our Pillow
New foam technology that is even better at molding to your body and will last longer than ever before
Innovative pillow designed to give the hottest sleepers a restful cool night of rejuvenating sleep
100% visco-elastic memory foam
Made and dispatched in the UK
High quality fixed poly-cotton outer cover that is both hygienic and comfortable.
Affordable option when compared with other treatments. When something as simple as a pillow can help to cure your ailments, why waste money elsewhere?
Watch our new video for more information on our great product
Contour Memory Foam Pillow Neck Pillow Orthopedic Pillow
Zip off washable 'Stress free' cover.
Size approx - 60cm x 38cm x 10cm.
Will fit in a standard pillow case.
Next day delivery available
Creating Comforts is known for having some of the
best memory foam pillows
. With their newly developed
memory foam contour pillow
they have taken comfort and durability to a whole new level. In order to allow for maximum comfort the pillow size is increased. What this means for you is that your shoulders and neck will now have even more support helping to relieve pain and aid in relaxation. Users have often found that not only does the memory foam help to lessen pain from sleeping, it can also help with chronic neck and shoulder pain from injuries and can sometimes eliminate them completely.
Customers often wonder how the memory foam contour pillow will alleviate pain. The unique contour design helps to evenly distribute the amount of pressure across your neck and shoulders so that there is no singular point taking the added stress and weight throughout the night. This means that you'll have a full night's sleep and will wake up feeling better than you ever felt with a typical pillow.
By using new high quality memory foam technology Creating Comforts is able to ensure that all of our customers have the best experience possible. Our contour memory foam pillows are not like the others and once you've tried one for yourself you'll immediately feel the difference.
Ideal for:
Anyone who suffers from headaches. A comfortable place to lay your head can often be the best remedy. With a contour pillow designed to hold your head and neck in the best position you will get over your headaches faster.
Anyone that is a back or side sleeper. On your back or your side it is often difficult to get the pillow situated properly. With the contour pillow there is no need to push and pull on the pillow until its perfect because of its reshaping properties.
Those that suffer sleep apnea. The contour memory foam pillow can help your head in the ideal position for breathing and keeping airways from becoming blocked. Sleep apnea can be very dangerous, even fatal so having a pillow that will aid in your illness is essential.
Creating Comforts pillows are designed to be long lasting and high quality.
Sufferers of neck and shoulder pain. With the contour pillow your body will be in better alignment throughout the night which will help to relieve bothersome neck and shoulder pains.




Click on the green 'Add to cart' button below to buy your memory foam contour pillow
UK - STANDARD DELIVERY INFORMATION
It's FREE! - All our goods have shipping included in the price unless otherwise stated.
Your parcel will arrive within 3-5 working days (excluding weekends).
Delivery will normally take place between the hours of 08:00 & 19:00 hrs
If you're not in when your parcel arrives, a card will be left telling you where it is & there will be details on how to collect your order or rearrange delivery via the couriers website.
Deliveries are not made on bank holidays therefore you can expect your order to arrive the next working day.
Please keep in mind that UK Bank Holidays are not counted as a working day in our delivery time frames.
COURIERS & SERVICES THAT WE USE;
Royal Mail - Recorded
Royal Mail - International Signed for
Parcelforce - 48
DHL
Yodel
Next day delivery now available
RETURNS
If for whatever reason you are not happy with your goods please get back in touch with us within 14 days of delivery - full details are outlined in your dispatch email or on our website terms & conditions page.
This memory foam pillow is a good pillow that keeps its form while giving a comfortable position. Recommended.
Sylvia
Excellent quality and firm used it for one night and slept like a baby! Good product thank you.
Craig Taylor
Great service arrived very quickly. Great neck pillow at a good price.
Lyn Parr
husband loves it, just what was wanted.
Debbie M
Click on the green 'Add to cart' button below to buy your memory foam contour pillow