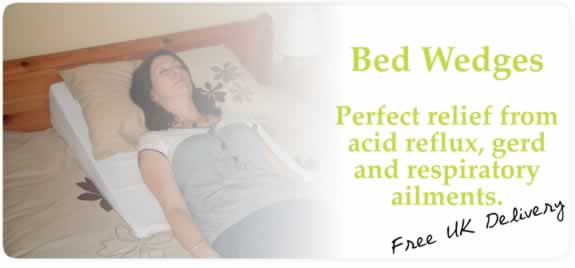 Buy bed wedge pillows in the UK, memory foam layered for the relief of acid reflux and gerd. From only £26.95 in stock! Free UK Delivery.
Our bed wedge aka bed wedge pillow or foam wedge mattress elevators are superb for those who require a back rest or leg support whilst lying or sitting up in bed. Great for convalescing!

Bed wedge - the benefits
The foam bed wedge support pillow can instantly relive symptoms associated with:
Back pain, Acid reflux and Gerd, other terms for these conditions are commonly known as Stomach acid, Gastric reflux, Indigestion and Heartburn.
It can be used as a pillow lift and is a safe non prescriptive alternative to relieve such conditions.
Helps in post op recovery.
With excellent customer feed back our low incline larger footprint best selling wedge pillow for acid reflux is excellent for eradicating symptoms whilst lying down or sleeping.
To view the range of Best Selling ---> Bed Wedges <--- on our trusted partners site (paid link, click the arrowed bold text link.
All about Creating Comforts Bed Wedges
Click on the play button to watch a short 1min promotional video
When you purchase one of our foam wedge pillows for your bed you'll be buying a foam bed wedge support that not only offers an incredibly comfortable memory foam layer for the relief of acid reflux and gerd, but you'll also be getting a great bed support pillow.
Our foam bed wedges not only aid in the relief of chronic health issues such as acid reflux and gerd, but they are also unbeatable when it comes to easing back pain when used as a back rest or support when lying or sitting in bed.
With our bed wedge pillow you'll find increased relief and comfort from some of the most common health ailments. We recommend using the bed-wedge as a support to remedy back pain, acid reflux, gerd, gastric reflux, indigestion, and heartburn. One of the greatest benefits of the mattress wedge is its ability to be used as a safe and non- prescription alternative to curing or aiding health issues. Many of our valued customers have left positive feedback rejoicing how our reflux bed wedges have helped to change their lives.
In addition to the incredible health benefits our foam bed wedges offer, they are also incredibly multifunctional and dual purpose. There are a multitude of ways our bed wedge pillows can be utilized. Use the wedge as an under leg rest to help raise your feet and legs to give support whether you're recovering from a common sports injury or leg surgery. Using the pillow in this way will help to relieve pressure from the trouble areas so that they can heal quicker and with less discomfort. Depending on your preferred level of firmness the wedges can be turned to offer a softer or more dense pillow surface.
The bed wedge can also be used as a fantastic back support. Position the foam wedge pillow behind your back against the headboard or wall and you can use it to help maintain a posture that is better for your spine while watching TV or reading your favorite book. If you prefer to read or watch TV elsewhere, our foam pillows are incredibly light weight and easy to lift. Simply pick up your bed wedge and move it to your favorite location.
If you need a under mattress wedge tilter, our angled foam bed wedge cushion can be used for that as well. Our bed wedges can be easily placed underneath the mattress to act as a tilter or bed raiser. Imagine using this versatile pillow instead of blocks or bricks. Just select which end of the bed you would like to raise and insert the pillow for a safer more sturdy option than the expensive alternatives.
Custom Made to Measure Bespoke UK Service
We acknowledge that some customers want a bed wedge made to their own specifications therefore we offer a bespoke "custom made" foam bed wedge service. Should you require a bed raiser or under mattress wedge tilt at a specific angle, size, or firmness simply give us a call for your personalised quotation on 0845 680 1658 or send us an email. We strive to offer the very best service and want you to get the personalization that you require to meet your needs. If you would like a quick competitive quote you can click the "contact us" link located at the very bottom of this page. Enter your name, email address, and the personalization details you require in the indicated field and we will get back to you as soon as possible, often in less than 24 hours.

Click on your desired product image below to get specific product information.
Multifunctional Uses for the foam bed wedge:
Prop under legs and feet for pressure relief
Additional back support when lying or sitting in bed
Body raise support pillow to help with common health ailments
Use under knees and heels as a surgery recovery aid
Foot prop to help with swelling
Use our Bed Wedge to Alleviate Symptoms and Ailments including:
Gerd
Back pain or stiffness
Neck pain
Heartburn
Acid reflux
Gastro reflux
Stomach acid
Reflux disease
Reflux symptoms
Barrett's oesophagus
Gastro esophageal reflux
Blood circulation for swollen feet or ankles
We all need a good night's sleep. A good 6 to 8 hours of uninterrupted sleep makes so much more difference to the way we feel and function. There is nothing worse than a broken night of sleep lying there feeling uncomfortable, tossing and turning and wishing you could just drop off and wake up with the birds rather than in the middle of the night. Often this happens because we are suffering from symptoms that make sleeping more of a task. Back pain, acid reflux, gerd and pregnancy are just some of the symptoms that can make us uncomfortable when trying to sleep. It could be post operation after having surgery on knees and legs or even that you suffer from leg and knee symptoms, swollen ankles or maybe you have broken an ankle or leg bone. Rather than taking medication like sleeping tablets sometimes all we need is the comfort and support of a good pillow, In particular a good sleeping wedge which can be fantastic to help you achieve a more comfortable position when trying to fall asleep and stay that way until morning.
At Creating Comforts we sell a range of foam bed wedges to help you achieve a better sleeping position and a longer night's sleep. All of our foam bed wedges come in different sizes and designed for different purposes to alleviate different symptoms from knee pain to pregnancy.
Our best-selling memory foam bed wedge is designed to alleviate acid reflux, stomach acid, gerd and heartburn. It does this by propping you up at an angle to stop the acid from the stomach flowing back up the oesophagus. Because the memory foam bed wedge has a lower incline and larger surface area than other foam bed wedge, it is ideal for helping those who suffer from reflux achieving a better nights' sleep. The top layer of the pillow is a memory foam for extra comfort. It has a removable cover so that it can be regularly washed as well. It doesn't have to be used for just reflux and heartburn. It is also great for people who suffer with bad sinuses to drain the sinuses at night, can help with snoring and constricted airways. This foam bed wedge pillow can also be used as a leg raise for those who suffer with swollen ankles or varicose veins.
Do you suffer from leg or knee problems? Is it a struggle getting to sleep at night because of the discomfort of a recent injury, broken bone or other complaint? A good bed support pillow could be all you need to ensure that you are more comfortable and enjoy a better quality of sleep. Our smaller foam wedge pillows is ideal to place at the foot of the bed to raise your leg if you suffer from leg or knee problems. Great for swollen ankles as raising the leg allows the fluid to drain away to another drainage point. All of our bed-wedges also come with a choice of 3 covers which offer even greater choice and added comfort. There is the Standard, a non-quilted version the Premium which is a standard quilted version and then for maximum comfort the Luxury, Coolmax deep quilted option.
Our newest addition to the range is the Maternity Wedge. Its design allows the mum-to- be to rest her ever growing bump on whilst lying on her side and in doing so get more comfortable. Like all of our foam bed wedge supports it can also be used to support the back when sitting up or if sleeping on your back to elevate you and make you more comfortable. When the mum to be gets to the second and third trimester of pregnancy the presence of an ever expanding bump can make it hard to achieve a comfortable sleeping position. Again the foam bed wedge has a top layer made from memory foam to make it more comfortable and removable covers to keep it clean and hygienic.
Just like standard bed pillows you want to protect them and keep them clean and hygienic. You may even want to keep them protected against seeping wounds or other spillages or incontinence. We offer a range of pillowcases and waterproof covers especially designed for our range of bed wedges. Our waterproof vapour permeable cover is extremely hygienic. It is a multi-stretch cover which is comfortable so you don't feel like you are sleeping on anything that is waterproof. It prevents liquid from getting through to the core of the foam meaning that your bed wedge pillow will last longer and remain more hygienic. If you don't need a waterproof cover our made to fit pillow cases are ideal for fitting these irregular shapes. In a choice of either a heavy cotton fabric which fit our small wedges or a cream poly cotton feel fabric they are removable with a zip fastening. Just pop them in the washing machine when they need cleaning and pop on a spare.
Our foam bed wedges are ideal for a variety of uses from acid reflux to pregnant mums who need to get their bump comfortable as it grows. The shape and design of each of these pillows means that the user, whatever their need, can get more comfortable and alleviate the symptoms of whatever their condition may be. They can then enjoy a better night of sleep staying asleep for a longer period. Surely as an alternative to medication you couldn't find a better solution.
Some of our most prominent customers include:
NHS Trusts
Care facilities.
Nursing homes.
Local Authorities
The general public, including people looking for a cost effective solution, just like yourself.
We are the original retailer of our bed wedges and we are proud to announce that we have hundreds of sales with more than 250 positive reviews.
Our incredible foam bed wedge support pillows are available in a variety of sizes, colours, and several cover options. One of the favourite options is our waterproof 2-way stretch VP vapour permeable option that is popular with care homes and NHS hospitals due to their incredible durability, flexibility and hygienic properties. No matter what your budget may be, we have an option that will suite your needs.
Each of our foam bed wedge pillows are created from high quality foam and materials that are made in the UK to British Safety (BS) specifications and are covered by our manufacturers 12 month warrantee. When you purchase from us you know that you're getting a quality product.
Delivery is always free within the UK mainland. If you need our bed wedge shipped to any other destination eg internationally, Northern Ireland, rest of Europe - just select your shipping destination at checkout and your shipping cost will be calculated automatically.
Ordering your support pillow for your bed is easy! Simply select the wedge for your bed that best suits your needs by clicking on one of the images below.
Large View