Upper Torso and Leg Raise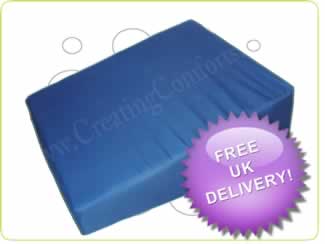 Click image(s) for large view
This memory bed wedge is no longer manufactured and has now been replaced with our superior upgraded wedge shaped pillow for reflux which was developed based on the countless number of customer feedback that we received.over the years.
Development led us to make it with a larger footprint which increases comfort levels when lying down resting or sleeping - ideal for reflux sufferers.


















Alternatively if you are not sure what type of visco bed wedge you are looking for, then take a look of the full range of our bed wedge pillows on offer or give us a call on 0845 680 1658.


Optimally angled for desired elevation of the upper torso
Fitted with a Cotton drill zip off cover
Compliant to BS5882:part 2:1982,: Fire safety regulations 1988
Highly recommended for sufferers of acid reflux, Gerd
Constructed from an "Egg Crate" memory foam layer laminated to premium grade CM foam providing excellent levels of comfort
Our
memory foam bed wedge
is designed to function optimally to ensure that your head, shoulders and torso are supported at the correct elevation to alleviate symptoms of
acid reflux
, heartburn,
gerd
, respiratory conditions, sinusitis,
hiatus hernia
and other related problems. Elevation allows gravity to work well keeping stomach acid and food down, drains sinuses and opens airways.
Elevation of the head only on pillows actually exacerbates many sleep problems, particularly acid reflux, as your body is inclined to bend in the middle, which allows stomach acid to go part way up the oesophagus and get trapped which causes extreme discomfort. The single most popular recommendation from medical professionals is to elevate the upper torso to alleviate symptoms, which in turn may reduce the necessity to take prescribed medications.
Multi functional, the foam bed wedge can be used at the bottom of the bed to raise and support the legs encouraging good circulation, relieving symptoms of varicose veins, swollen ankles, phlebitis and oedema. For many, this simple natural remedy may be all that is required to manage such conditions very well.
Our bed wedge pillows are constructed from premium CM foam which has a laminated layer of convoluted or 'eggcrate' design memory foam to increase airflow. The bed wedge pillow is fitted with a zip off quality cotton drill cover, with our alternative waterproof version of the bedwedge, from which the cover is made from a VP or vapour permeable 2 way stretch fabric, which allows flexibility & total comfort for the user of the foam wedge, the VP fabric can be found in carehomes and hospitals, coverings include mattresses, toppers and pillows due to the hygienic properties.
Dimensions are approximately W52cm X L60cm X 20cm (highest point) profiling to 8cm (lowest point)
Memory Foam BedWedge Key Features
Design allows increased airflow to help regulate body temperature
Hypoallergenic , suitable for asthma and allergy sufferers
As supplied to the NHS Hospitals, Care Homes & Nursing Homes
Spare bed wedge covers available
Large version reflux wedge pillow also available with choice of covers
Free Delivery of the wedge support to mainland UK & NI
Shipping to other destinations please contact us ...here
Take a Look at our full range of UK wedge pillows
Delivery
We try and dispatch goods on the day of purchase. Goods are normally sent via Parcel force 48 - (normally two day delivery from the time of order this will vary if you live in the Scottish highlands, Channel Islands, Europe or the rest of the World.
Free delivery mainland UK