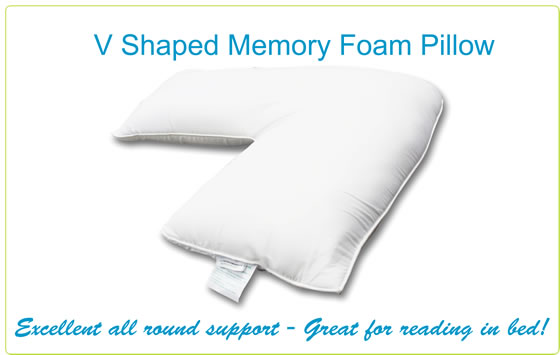 Click image(s) for large view
The V shaped pillow is designed to support your full head, neck and shoulders. This has been proven to be especially useful for pregnant women who need extra upper body support. Use this V shaped pillow to help to prop you up whilst watching TV, reading or just relaxing when in bed or on the sofa. Enjoy unquestionable comfort thanks to a memory foam fill. Take advantage of the free V Pillow case. Free UK delivery.
V Shaped Pillow benefits:
• Pregnant women that could use a sturdy pillow for comfort throughout the evening.
• Anyone with back problems. Having a pillow to help prop you up as you watch television in bed or from a chair can help to alleviate back issues.
• Individuals that like to watch television or read in bed.
• Those that are looking for a long lasting high quality pillow. After each use the memory foam reverts back to its original shape ensuring that each time you use the pillow it feels just like it did the first time.
• Anyone that suffers allergies. All pillows are hypoallergenic and dust mite resistant meaning they are the perfect option for individuals with sensitivities.
V-Shaped Pillow Memory Foam
The Memory Foam V-shaped Pillow Maternity Pillow is ideal for those that enjoy reading or watching television in bed. The memory foam pillow helps to prop you up in a more comfortable position while adding important back support. Piling ordinary pillows can be tedious and they quickly become flat and uncomfortable. With the Creating Comforts V-shaped pillow you'll have a quick go-to option that stays comfortable and supportive indefinitely.
Alternately this pillow is a fantastic option for a pregnancy and maternity pillow. Trying to get decent sleep while you're pregnant can begin to feel like one of life's great mysteries. You'll find yourself tossing and turning and rarely getting a good peaceful rest. With the V-shaped memory foam pillow it makes sleeping in awkward positions a much more comfortable experience. The pillow will prop up and support your body so that you are able to relax and get some much needed rest. Additionally the memory foam pillows are designed to mold to your body which will help to keep your spine in better alignment so you will awaken with fewer aches and pains.
The V-shaped memory foam pillow can be used in bed, in a chair, or anywhere else you like to relax but could use additional support. Each of the pillows will provide a firm softness that will mold to your body as you enjoy your favorite programs or rest after a long day of work.
Creating Comforts designed these pillows with memory foam flake interiors so that you achieve incomparable comfort and the most effect support with every single use.
Benefits:
• Comfortable memory foam core for personalized support
• Effective pregnancy and maternity pillow
• Free UK delivery
Dimensions approx 27"x12". Contents 1 x V pillow and 1 poly cotton outer pillowcase white.
UK - STANDARD DELIVERY INFORMATION
It's FREE! - All our goods have shipping included in the price unless otherwise stated.
Your parcel will arrive within 3-5 working days (excluding weekends).
Delivery will normally take place between the hours of 08:00 & 19:00 hrs
If you're not in when your parcel arrives, a card will be left telling you where it is & there will be details on how to collect your order or rearrange delivery via the couriers website.
Deliveries are not made on bank holidays therefore you can expect your order to arrive the next working day.
Please keep in mind that UK Bank Holidays are not counted as a working day in our delivery time frames.
COURIERS & SERVICES THAT WE USE;
Royal Mail - Recorded
Royal Mail - International Signed for
Parcelforce - 48
DHL
Yodel
Next day delivery now available
RETURNS
If for whatever reason you are not happy with your goods please get back in touch with us within 14 days of delivery - full details are outlined in your dispatch email or on our website terms & conditions page.