Perfect Memory Foam Pillow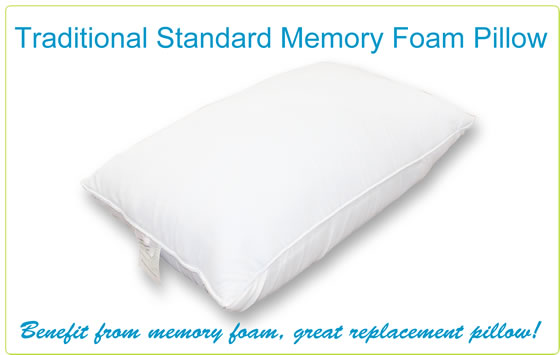 Click image(s) for large view
The traditional neck support pillow will mold around the shape of your head every single night creating the perfect, comfortable support. Don't be fooled by the traditional look of the this pillow. The memory foam clusters that sit in the middle of the pillow move around to support parts of your head and neck that need the most alleviation. A piece of memory foam surrounds the outside of the pillow to provide added comfort.
Benefits:
• Will fit all standard size pillowcases and measures approximately 70cm x 40cm
• Traditionally shaped memory foam pillow with memory foam comfort and support
• Memory foam cluster filled for additional personal molding
• Hypoallergenic and dust mite resistant making it ideal for allergy sufferers
• Provides orthopedic support for the head and neck
• Free delivery and same day dispatch guaranteed
Memory Foam Neck Support Pillow
Ideal for:
• Back or side sleepers looking for a pillow that will cradle their head and neck as they rest. Traditional non-memory foam pillows don't offer the specialized support that back and side sleepers need.
• Individuals that suffer sleep apnea. Our memory foam pillows will aid you by keeping your neck and shoulders in alignment. When your body is in alignment it will be easier to breathe properly throughout the night.
• Those wanting a pillow that will continue to provide long lasting support for years to come.
• Anyone that suffers neck, shoulder, or back pain. Our pillows are designed to support your body as you rest so that you will wake up refreshed and relaxed with fewer aches and pains.
The Memory Foam Neck Support Pillow is ideal for those looking to upgrade their standard set of pillows. While these Memory Foam Pillows offer the look and feel of a traditional pillow, they have an incredible amount of additional benefits. With these pillows you'll get the standard shape and size that you love so you can continue to use all of your favorite linens. It won't be necessary to go out and buy whole new bed sets, you can stick with what you already own and love. Yet with the memory foam pillows you'll be upgrading to a pillow that will offer so much more than a comfortable place to rest your head.
Each of the pillows is created from high tech visco-elastic foam that is ideal for comfort and support. As you use the pillow your own individual weight and heat will activate the unique molding properties and you end up with a pillow that forms to your personal body and needs. As the pillow conforms to your contours it will aid in supporting your head, neck, and spine to encourage correct anatomical alignment as you sleep meaning that you will wake up with fewer aches and pains and will have a deeper more restful sleep.
The Creating Comforts Memory Foam Neck Support Pillow is designed with a solid memory foam outer layer and a memory foam cluster interior. The exterior allows the pillow to look like a traditional pillow while the interior helps with the unbelievable personalized molding and ensures that after each use the pillow quickly returns to its original shape.
UK - STANDARD DELIVERY INFORMATION
It's FREE! - All our goods have shipping included in the price unless otherwise stated.
Your parcel will arrive within 3-5 working days (excluding weekends).
Delivery will normally take place between the hours of 08:00 & 19:00 hrs
If you're not in when your parcel arrives, a card will be left telling you where it is & there will be details on how to collect your order or rearrange delivery via the couriers website.
Deliveries are not made on bank holidays therefore you can expect your order to arrive the next working day.
Please keep in mind that UK Bank Holidays are not counted as a working day in our delivery time frames.
COURIERS & SERVICES THAT WE USE;
Royal Mail - Recorded
Royal Mail - International Signed for
Parcelforce - 48
DHL
Yodel
Next day delivery now available
RETURNS
If for whatever reason you are not happy with your goods please get back in touch with us within 14 days of delivery - full details are outlined in your dispatch email or on our website terms & conditions page.