Excellent Pressure Relief For Delicate seat Area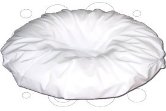 Click image(s) for large view
Our memory foam moulded donut cushion pressure relieving ring cushion is unique as it softens with body heat contouring to individual shape which promotes a more natural seating position. This enables the user to stay seated for longer periods of time while the "cut out" design alleviates pressure and discomfort from the affected area allowing you to concentrate on recovery rather than pain.
Post Natal recovery will be less traumatic with one of the fundamental necessities taken care of, after all you need to sit comfortably to care for and nurse your new baby. From experience I can confidently say it does its job and it can be taken anywhere, so you wont need to be house bound!
Our memory foam donut comfort cushion is ideal if you are suffering from haemorrhoids or a delicate condition making contact with any seating surface painful. Post operatively this cushion is used extensively as a means to speed up recovery physically and to alleviate anxiety associated with perceived pain. It can be used later as a means to add comfort to many seating surfaces.
Fitted with a washable poly cotton cover, the memory foam comfort donut ring is hypoallergenic and dust mite resistant and comes with full manufacturer's guarantee.
Dimensions approximately 44cmx9cm (17"x3.5")
An ideal aid for Creating Comfort!
Donut / Ring, pressure relief cushion
Hypoallergenic & dust mite resistant
Unique Cut out alleviates pressure from the affected area
Ideal post operatively and for Post natal use
Essential pain relief from painful hemorrhoids.
FREE DELIVERY