Hygienic Wipe Clean As Used In The NHS.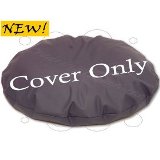 Click image(s) for large view
At a vulnerable time when recovery and pain relief are paramount, the last thing you need to consider is removing and washing your donut cushion cover. With this in mind we are pleased to introduce a cover that will make your life easier.
Constructed from a VAPOUR PERMEABLE,WATERPROOF FABRIC WITH 2 WAY STRETCH, which will enhance the products function.
This unique cover will follow the contours of the cushion and is extremely soft and pliable to the touch which ensures no undue pressure is applied to the delicate seating area. A high level of hygiene is easily maintained, antibacterial with no need to remove the cover for cleaning purposes, a simple wipe over action in situ will be sufficient to keep the cover fresh then simply hand dry.
Spare Cover for Creating Comforts Donut/Ring Cushion approx 44cmx9cm. Can upgrade other cushions with the same dimensions.