PILLOW CASE ONLY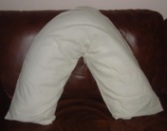 Click image(s) for large view
V shaped pillow cases to fit creating comforts V pillow or other standard size v shaped pillows as well as our waterproof V pillow.
Cream Coloured poly cotton fabric pillowcase with 'tuck flap' that is fully machine washable. Dimensions are approximately 27"x12"x 27"x12" (67.5x30cm x 67.5x30cm)so our pillowcases should fit the majority of v pillows available on todays market.
V Pillow case benefits
Will fit most v pilows
Easy fitting & removal
Machine washable
Free Uk Delivery!