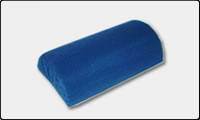 Click image(s) for large view
This orthopaedic cushion gives excellent lower back support, the uniquely shaped D roll fits into the small of your back and is secured at the desired position by an adjustable strap. This helps to maintain the correct curvature of the spine and counteracts a natural inclination to slouch forward when sitting by encouraging good posture.
The lower back support will be particularly beneficial for traveling long distances or those long days at the office where you may be seated for long periods of time.
Dimensions 410mm x 360mm x 100mm (highest point)