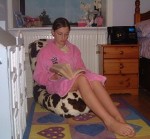 Click image(s) for large view
Creating Comforts New back support bean bag chair has been designed in the UK. It is unique in the respect that it has been designed ergonomically to promote excellent anatomical support for the back, shoulders and neck. This will encourage a good seating posture even when you are lounging.
Suitable for the whole family, our bean bag will mould to the contours of your back which makes it far easier to find a comfortable position without readjusting your body every 2 minutes. This really is a super comfortable bean bag chair making it perfect for resting, reading, watching, lounging or sleeping. Ideal for those times when you have a full house and need extra seats!
The cover is made from a cosy acrylic knitted fabric with a cow hide design and filled with expandable foam beans making it warm and attractive to adults and children alike.
This is a fabulous addition to any household as it can be used by the whole family and it also doubles up as a comfortable gaming chair. With Christmas fast approaching it would make a fantastic gift, we offer a 14 day money back guarantee should you not be fully satisfied with this product.Dimensions 27.5x18x10 inches.
Key Features
Designed to give orthopedic back support
Created and designed by a uk designer
2 Year manufacturer guarantee
Hypo allergenic and dust mite resistant
Super-comfortable,Perfect for resting, reading, watching, lounging or sleeping
FREE DELIVERY and a 14 DAY MONEY BACK GUARANTEE