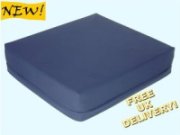 Click image(s) for large view
Some items of furniture are particularly low therefore making it difficult to rise comfortably from a seated position. Do you experience problems getting out of your favourite chair? or maybe it is just difficult to get up once you have sat down, if that is the case then Creating Comforts Tilting Riser seat cushion could be just what you need.
This cushion has been designed with both comfort and practicalityin mind, extremely comfortable to sit on the tilting riser cushion has a three layer construction enabling a unique pivoting action. Offering firm support at the back with a graduated mid section, the softer foam on the leading edge of the cushion will collapses as you begin to lean forward. This action will gently ease your body forward aiding you to lift from a seated position
As supplied to the NHS, our cushion is fitted with a superior hygienic 2 way stretch vapour permeable fabric Waterproof and soft to the touch this fabric provides comfort while offering complete protection from accidental spillage and absorption of odours and liquids in to the cushion Extremely stain resistant, no need for removal to wash simply clean in situ using a damp cloth or sponge wiping dry.
Anti bacterial fabric provides an excellent barrier and will not support microbial or fungal growth. A covered zip makes for easy removal for the fitting of replacement covers. This cushion can be taken anywhere with you and is an inexpensive alternative to costly electrical lifting equipment.
Dimensions 40cmx43mx11cm (16inx17inx4.5in) approx.
Seat Riser Key Features
Perfect to use with low furniture to aid rising from a seating position
Extremely versatile and mobile can be used at home,work or on holiday
Vapour permeable,waterproof 2 way stretch cover,comfortble, hygienic and wipe clean
3 years manufacturer guarantee for the cushion and 1 year guarantee for the cover
As supplied to the NHS, Hypoallergenic and dust mite resistant
FREE Delivery