MEMORY FOAM COMFORT FOR ADDED PAIN RELIEF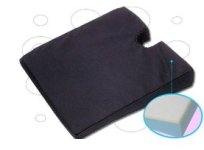 Click image(s) for large view
Our NEW DESIGN Memory Foam orthopaedic Coccyx Cushion is a seating wedge that will provide a pelvic tilt ensuring the hips are higher than the knees.We have incorporated a layer of memory foam on top of the high density foam base to ensure this delicate area is adequately protected while giving comfort and pain relief The unique cut out removes pressure from the coccyx area, which is an easily aggravated area of the lower spine.
By gently tilting the pelvis forward the spine is forced into an upright position, which will counteract a natural inclination to hunch forward and strain the lower back.
Memory Foam Coccyx Cushion Key Features
Relieves coccyx injury pain giving the right balance of support and memory foam comfort
Removes pressure from the delicate coccyx (tailbone)
Correct seating posture encouraged with unique pelvic tilt design
Can be used anywhere, office, car, travelling and home.
Our layered memory foam coccyx cushions have a large surface area and measures approx 43cm x 43cm x 7.5cm > 3cm
Free delivery & same day dispatch on our tail bone cushions