For a Cooler more Comfortable Sleep!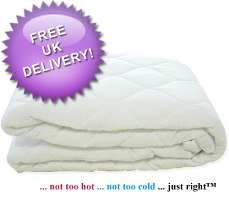 Click image(s) for large view
Our new Outlast mattress protector is excellent as a mattress protector but more importantly as a temperature regulator for those of us who have a memory foam mattress but find it to be uncomfortably warm.
Memory foam mattresses with an outlast cover are becoming increasingly popular as a means to combat excessive heat that can be generated while sleeping on a memory foam mattress.
Outlast technology is unique and a highly functioning product when compared to others on the market today. Outlast fabric consists of thermocules which absorb excessive body head, the beauty of it is that the heat is stored away from the skins surface however, should your body temperature drop, the thermocules will release the stored heat back to you keeping your body at an optimum temperature. Not too hot, not too cold is exactly what you need for a truly comfortable, restful nights sleep.
Trialled extensively for performance, outlast has been used for many years in performance sports where regulating body temperature is paramount. It stands to reason that the uses for such a high performance fabric would be extended to other markets which is good news for the mattress sector.
Easy to fit, simply pull over the mattress to secure in place. This is an excellent cost effective way of upgrading your current mattress without the unnecessary cost of buying a new one or paying for a fully enclosed Outlast cover.
If you are looking for a fully enclosing replacement memory foam mattress cover (zip fastening), then take a look at the Outlast covers to fit either 20 cm or 25cm mattresses depths by clicking on the appropriate size text link;
Cooling Outlast Mattress Protector "Key Features"
NEW Outlast technology makes an ideal cool cover for a memory foam mattress
Regulates body temperature by storing and releasing heat when your body needs it
Protects your mattress keeping it fresh and clean
Used successfully on existing memory foam mattresses to upgrade without the expense of a new mattress
Outlast mattress protector - for a cooler more comfortable sleep experience
Fits existing mattress in seconds
Elasticated edges, fits just like a fitted sheet
Will accommodate mattress depth up to 25cm (10")
All standard bed sizes available
*Free UK Delivery*
Unfortunately due to high demand we are out of stock, furthermore our supplier has has stopped manufacturing this line. We are currently looking to find an alternative, if you are interested in a similar product please contact us using the link provided and we will contact you as soon as an alternative is found:
http://www.creatingcomforts.co.uk/contact.asp