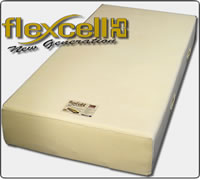 Click image(s) for large view
This mattress really is, the 'top of the range' of Memory Foam mattresses. It is made using not three layers of different types of foam, but with a four layer construction all of which have a unique function.
The top layer is 2cm'Supersoft Visco -elastic Memory Foam', this is to give you that comfortable feeling. The second layer is 7cm of temperature sensitive slow recovery Memory Foam, the third and forth bottom layers are 8cm each of High Resilient 'castellated' Foam.
This has a zoned middle section to give optimum support to the hips; lower back and pelvis. The extra layer gives ultimate comfort and increased air flow.
This mattress is Hypo-allergenic, which is perfect for those with sensitive conditions.
Key Benefits
Unique design 4 layers with zoned middle section for increased airflow
Hypoallergenic, anti microbial and fungo-static,
Significantly reduce dust mites
Highly recommended for allergy or asthma sufferers.
Superior ventilation
No need to turn
Overall depth of 25cm