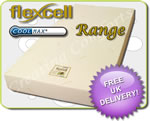 The Flexcell Coolmax Memory Foam Mattress has been designed to offer a cooler sleep experience for those of us who find memory foam mattresses to be uncomfortably warm.
The Coolmax cover works by removing moisture away from the body by increasing the surface area, It allows greater evaporation of moisture, leading to a cooling effect of the fabric.
This is an innovative fabric which 'breathes' therefore when you lie on it, the heat and moisture generated by your body will evaporate within the first hour of rest, and the fabric will keep your body cool throughout the night.
This is made possible by a special new fibre developed by Du Pont, which allows air to flow freely through the fabric and core, ensuring that no moisture will be trapped inside the mattresses.
The Flexcell Coolmax range comes with a choice of 3 covers to meet individual preference. The standard coolmax cover comes with the mattress however this can be upgraded to the luxury quilted Coolmax cover which offers a softer more comfortable feel.
We also recommend the "Aloe Vera" cover which offers a cooler sleep experience with the natural soothing effects of aloe vera.
All of our covers are removable and have been manufactured to be hypo allergenic, anti microbial and fungo-static which significantly helps to reduce dust mites making this an ideal choice for allergy sufferers
Key Features
Fabric cooling ' cover - takes away moisture
Choice of 3 cool mattress covers
Hypo allergenic, anti microbial and fungo-static
Significantly reduce dust mites
Highly recommended for allergy or asthma sufferers
Superior ventilation
Removable/washable cover
Vacuum packed for easy handling
Click here for more about the Aloe Vera cover...
Large View