A Versatile Pet Bed To Use At Home Or On The Go!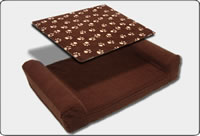 Click image(s) for large view
Being part of the family, Creating Comfort for our much loved dog/cat is essential. This stylish pet bed/lounger with it's removable memory foam cushion will compliment any room while giving your pet the ultimate in comfort and support.
Constructed from high density foam for maximum support we have added a 5cm memory foam cushion for maximum comfort. Memory foam reacts to body heat and weight, it will mould to your pets individual shape allowing a natural resting position for the joints and spine.
This is a fantastic addition for those pets who suffer with arthritic conditions, joint inflammation or quite simply old age.The cushion can be removed and taken with you on any journey giving your pet all the comfort of home.
Our pet bed comes with a luxurious removable acrylic fleece cover in brown extended to the bottom of the bed with an extra long zip making its removal and refitting much easier. The memory foam cushion is encased in a water repellent membrane to keep the foam clean and fresh. A contrasting fur fabric paw print design on the cushion compliments this stylish pet bed beautifully.
Like we did, you may just find your Dog/Cat prefers their own bed to yours!
Dimensions (76x50x20cm)/(2'5"x1'6"x8")
Key Features
Premium high density foam in frame
Manufactured and made in the U
Gives Orthopaedic Support
Memory Foam pet cushion with a waterproof membrane
Cushion encased with an acrylic fur fabric cover for extra softness and warmth
Frame cover fully removable and machine washable
Stylish design
Dust mite resistant
Hypo-Allergenic
Made in the UK
1 Year guarantee
Free delivery
Custom made sizes
Additional covers are available.