*FREE DELIVERY & SAME DAY DISPATCH*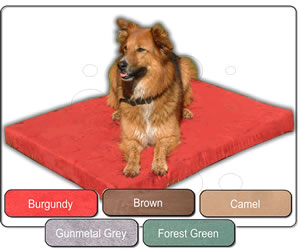 Click image(s) for large view
Our stylish Orthopaedic Restore 7cm Memory Foam pet dog bed mattresses are designed to give your pet comfort and support with the added bonus of looking good whichever room you place it in.
Creating Comforts Memory Foam pet bed will mould to your dog/cats exact body shape. This allows correct alignment of the spine promoting a natural resting position. The support given to the joints will virtually eliminates pressure points for your pet allowing them to rest more comfortably. This is particularly beneficial for those pets suffering from arthritic conditions or muscular pain.
The Orthopaedic Pet Bed comes with a choice of 5 luxurious faux suede covers in Burgundy, Camel, Green, Gun metal grey & Brown.
All of Creating Comforts pet beds are fitted with a water repellent inner lining to ensure the memory foam remains fresh and protected.
Should you require a size we do not have listed, simply drop us an email and we will come back to you within 24 hours with a FREE no obligation quote.
key Benefits
Manufactured in the UK. 3 year guarantee for pet bed. 1 year guarantee for cover.
Moulds to the contour of your pets body
Can relieve arthritic, rheumatic, hip, joint and muscular pains
Ideal for overweight/obese pets
Hypo-Allergenic and resistant to dust mites
Additional covers available
Custom made sizes