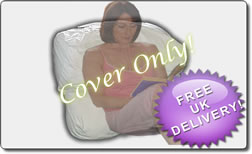 Click image(s) for large view
Creating Comforts Hinge pillow is shaped in a way that can make standard pillowcases difficult to fit. We now supply additional pillowcases to fit our pillow making your life a lot easier.
Made from a quality poly cotton fabric, our pillowcase is machine washable and easy to refit. Have peace of mind in the knowledge that you have a spare to use when required.
Key Features
1 Year manufacturers guarantee
Designed specifically for the hinge pillow
FREE DELIVERY and SAME DAY DESPATCH
14 DAY MONEY BACK GUARANTEE SHOULD YOU NOT BE COMPLETELY SATISFIED WITH THIS PRODUCT