A QUALITY PILLOW RELIEVING HEADACHE AND NECK PAIN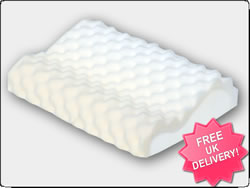 Click image(s) for large view
Designed with a cervical roll, the Restore Memory foam contour pillow will support the neck and spine as you sleep irrespective of the sleeping position adopted.
As is characteristic with memory foam, the moulding properties ensure that pressure points are virtually eliminated making this orthopaedic pillow an ideal choice for anyone suffering with headaches, neck or spinal problems.
The profiled design of the Memory Foam Contour Pillow keeps your neck and spine in the correct position which promotes full anatomical support.
The "egg crate"feature on the surface of the pillow allows extra airflow around the head and neck ensuring a cool comfortable sleep.
Creating Comforts Orthopaedic restore Memory Foam pillow can extend many health benefits to the user. This versatile pillow has multiple used and will come in handy as a travel pillow or to take on holiday camping or caravaning.
This pillow comes with a quality cover which is easily removed and is fully machine washable. Size approx 44x34x11cm(at highest point)(17x13x4inches)
Key Benefits
FREE DELIVERY
Manufactured in the UK to a high standard
2 year manufacturers guarantee
Provides excellent orthopaedic neck support
Natural pain relief aid
Hypo-Allergenic and dust mite resistant
Pillow complies with BS5852:Part2:1982 and is fire retardant.
WE OFFER A 14 DAY MONEY BACK GUARANTEE SHOULD YOU NOT BE COMPLETELY SATISFIED WITH YOUR PURCHASE.