SUPPORTS THE NECK IN A COMFORTABLE POSITION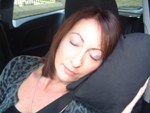 Click image(s) for large view
Have you ever arrived at your destination after a long car journey with a stiff neck, headache and a tense body? I certainly have and it's not very pleasant to say the least.
Our NEW Memory foam travel pillow will virtually eliminate such problems as your neck and shoulders will be fully supported and cradled as a result of memory foam's unique moulding properties. This will allows your body to adopt a natural resting position as you travel leaving you feeling relaxed and comfortable after every journey.
Our travel pillow has been designed in such a way that it attaches to the seatbelt with a simple velcro closing mechanism, this is great news as it stops the necessity for you to hold the pillow in place with your head as can be the case with many travel pillows on the market today.
Filled with high quality crumbed memory foam this travel pillow will afford you extreme comfort and support wherever you go. The cover is easily removed and machine washable, spare covers are also available through Creating Comfort. Dimensions 25x18x18cm (10x7x7 inches)
Key Features
Crumbed memory foam filling allows moulding properties to cradle the head and neck as you rest
Made and designed in the UK, 2 year manufacturers guarantee
Hypo allergenic and dust mite resistant, ideal for allergy sufferers
Outer cover is easily removed to clean. FREE DELIVERY and a 14 DAY MONEY BACK GUARANTEE should you not be completely satisfied with this product.
We apologise but this item is no longer available and we are currently in the process of securing an alternative supplier - please check back or drop us a line so that you can be notified when they are back in stock - thank you.