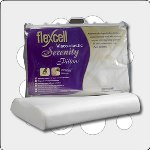 Click image(s) for large view
The Flexcell Serenity is a conventional shaped pillow with a core of 'Vasco' Memory Foam by British manufacturers Vitafoam.
It is designed to enhance your sleeping experience by providing excellent orthopaedic support and maximum comfort to your head and neck.
Shaped for maximum support to your head and neck
Memory responsive foam contours to your individual shape
Responds to body temperature, relieves pressure
Designed to work with any mattress to help keep your spine straight
Hypoallergenic and dust mite free
Removable washable cover
Firm
Pillow dimensions 65cm x 38cm (Depth 9cm to 12cm)
Give yourself the ultimate sleep experience and create the additional comfort needed for your whole body.