*NEW* LUXURY SUPPORT PILLOW FOR MOTHER AND BABY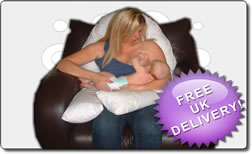 Click image(s) for large view
Creating Comforts nursing/breastfeeding pillow is NEW TO THE MARKET and what fantastic news for you and your baby. From personal experience I can remember only too well how difficult it can be to get comfort and support to initiate a positive start to the whole breast feeding experience from the beginning. It is so important to get it right from the start in what is undoubtedly one of the most rewarding experiences of your life.
We feel excited about this product as it breaks the convention of a maternity pillow that simply "fits around the front" of the body. The design is well thought out to offer mothers the support they need as well as making it comfortable and easy for the baby to feed or relax securely snuggled into mum.
The versatile body hug nursing pillow provides full back and neck support as well as a wrap around arm rest which makes it ideal to position your baby comfortably either sitting up in bed or relaxing in your favorite chair.
The clever design incorporates a cervical roll to relieve pressure on your neck and upper back and an inherent full support back cushion. The bolster arms fold around your body resting on your lap which provides pressure relieving support to your arms and shoulders allowing you to truly relax and rest as your baby contently feeds.
This pillow has multiple uses and therefore is a great investment,it is fabulous during pregnancy as a support pillow for your expanding tummy to rest on and for your baby to lie on with a feeling of security.When no longer needed as a maternity pillow it offers excellent support for your favorite chair or to sit up in bed reading, watching TV or simply relaxing. Whatever you do you can rest assured that this uniquely designed pillow will make it a more comfortable and enjoyable experience.
The body hug nursing pillow is fitted with a poly cotton pillow case which is easily removed and machine washable, we also supply additional pillow cases. Dimensions 1200cm x 70cm x 10cm
FREE DELIVERY 2 Year manufacturers guarantee for the pillow and 1 year for the cover. Made in the UK
Key Features
NEW TO THE MARKET Fantastic pillow for nursing and breastfeed
Build-in cervical roll provides full back and neck support
Fantastic to use as a pregnancy support pillow
Hollow fibre filled with excellent rebound properties, hypo allergenic and dust mite free making it an ideal choice for asthma sufferers and babies.
2 Year manufacturers guarantee for the pillow and 1 year for the cover. Made in the uk
14 DAY MONEY BACK GUARANTEE