Ideal pregnancy support pillow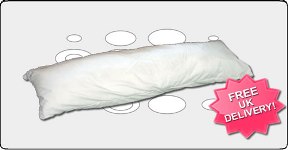 Click image(s) for large view
Bolster pillows designed to run the length of your bed or your body giving additional support and a reduction in pressure experienced in the neck, shoulders, spine, and lower body. By molding to your body contours naturally this pillow is ideal to supports your weight.
Creating Comforts fibre filled bolster pillows are fantastic to use during pregnancy as the nature of the full body pillow provides support and an excellent resting place for an ever expanding tummy! This will most definitely counteract those uncomfortable nights where it feels almost impossible to find a comfortable sleeping position.
Hypo allergenic and dust mite free, this long pillow is filled with a high loft polyester fibre and fitted with a quality poly cotton cover which is easily removed and machine washable. Our full body bolster pillow is without doubt luxuriously soft giving a source of orthopaedic support and comfort to rest on which is second to none.
Bolster Pillow With Free Pillow Case - Features
Free Pillow case - comes as standard at no extra cost!
Dimensions approx 137 x 45cm (54 x 18 inches)
Will fit a 4'6 double bed snugly & sits comfortably on a 5'0 king size bed
Made in the UK and materials comply to British Safety Standards
Full manufacturers guarantee for the pillow and 1 year for the cover
Extra high loft - our bolster pillows are "plumper" than the average long pillow - giving more support!
Use as a traditional pillow
Superb post-op recovery aid
Gives orthopaedic leg support
Gives orthopaedic body support
Fantastic support pillow during pregnancy
Additional pillow cases available, click ..."bolster pillow Cases" for spare covers
Free Pillow Case

Free Next Day Dispatch

Free Uk delivery on all of our Bolster Pillows!