A SUPPORTIVE WEDGE ENCOURAGING GOOD POSTURE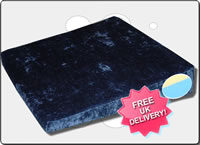 Click image(s) for large view
We have altered the construction of our seat wedge as a result of feedback from our customers. An extra layer of high density reflex foam has been added to the bottom of the seat wedge toremoved and machine washable. washab give added support and a firmer feeling without losing the benefits of Memory Foam.The extended width and depth at the highest point to 8cm creates added comfort overall.
A seat wedge will gently tilt you forward ensuring that hips are higher than the knees, this is instrumental in removing what can be enormous pressure placed on the lower spine from the simple action of sitting.
The Wedge is ideal for car seats because it will angle the body to a comfortable, easy driving position. Placed on an office chair, it will adapt the angle of the sitting position to encourage what is known as "balanced seating" the optimum seating position to discourage incorrect posture and the subsequent back problems that may occur.
Our seat wedge is fitted with a durable poly cotton cover which is easily removed to clean.Additional covers are available for this item.
Dimensions 400mm x 380mm x 80mm (highest point)
Key Benefits
New Improved Version! New New Fabric! New Experience!
Offers Orthopaedic support relieving pressure
Encourages correct seating posture.
Ideal for home, office or in the car.
Same Day Dispatch* & FREE Uk Delivery.
Conforms to UK Standards BS5852
14 DAY MONEY BACK GUARANTEE should you not be completely satisfied with this product