Supplied To NHS And Nursing Homes. Pillowcase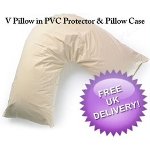 Click image(s) for large view
Creating Comforts waterproof V pillow has been added to our range due to customer demand. Our research found that there was definitely a need for a sealed waterproof V pillow however, it was not available as with standard shaped protective pillows. Given both customer feedback and our own findings, development continued to provide a waterproof pillow to meet this demand.
Supplied to the NHS and Nursing Homes, the sealed waterproof V pillow has proved extremely popular as it gives complete protection from incontinence and subsequent fluid ingress which extends the pillow life. Hygienic and low maintenance, cleaning is minimal as a warm soapy water hand wash and dry is all that's required.
The sealed V pillow is truly versatile and is fantastic as a maternity pillow, the unique V design allows it to be extremely comfortable and supportive for nursing mothers either as back support encouraging a good seating posture or to fit snugly around the front, which promotes ease of positioning giving support and a feeling of security to both mother and baby.
We have had excellent positive feedback with this pillow, as it is used in varying capacities, from simple back support to assisting those who sleep in a gently inclined position to combat conditions such as heartburn and acid reflux, or quite simply those who enjoy comfortable back support irrespective of the activity undertaken whether reading ,watching TV or relaxing.
The sealed waterproof V shaped pillow is hollow fibre filled to achieve a high loft and sealed in a soft PVC heavy duty white pillow protector. Fire retardant and tested to BS7175
Cream coloured poly cotton pillowcase included additional V pillow cases available to buy.
Dimensions approx 27"x12"xx27"x12" (67.5cmx30cmx67.5cmx30
Looking for our standard V pillows or the all new body hug pillow.


Waterproof V Pillow Key features
V shaped hollow fibre filled pillow sealed in soft white pvc cover
Hygienic as used in hospitals and nursing homes, hypoallergenic and dust mite free
Easy cleaning, wipe clean with warm soapy water
Waterproof giving complete protection from fluid ingress
FREE Pillowcase & Free UK Delivery. Manufacturers Guarantee.
Manufacturers Guarantee.