Bed Wedge Pillow Cure Acid Reflux, Stomach Acid, Gerd and Heartburn
A Support Wedge Pillow That Aids A Restful Sleep!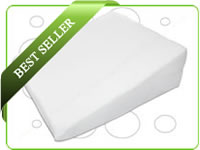 #1 Best selling wedge pillow for acid reflux in the UK. Stop symptoms of acid reflux. Angled to prevent acid flowing back up the oesophagus. Free Shipping. Great results at night time! Our reflux wedge support pillows larger footprint has been specially designed for lying down to help alleviate nighttime woes for those's who suffer from excessive reflux at night t...